Rent a Toyota at Schaumburg Toyota
Try Before You Buy!
It's Not Just a Rental…It's a Toyota!
877-723-0620

Business Hours: Mon – Fri 8am – 7pm
When you need a rental car, you don't have to go to a special rental agency; you can simply visit our Rental Center here at Schaumburg Toyota! Our Rental Center has a wide selection of new Toyota models that you can rent, so you can drive exactly the model you want.
* Rent a Toyota for any occasion: There are many reasons you may need a rental car. From business to leisure, from a weekend escape to a family reunion, you want an easy and enjoyable rental experience. Perhaps your own car is in the shop for repairs or maintenance, or you need a car with more space or better fuel economy. Whatever the reason, you can rent the perfect car here at Schaumburg Toyota!
* The Advantages of Renting: Not only can you drive a brand-new Toyota model with low mileage, but you can rent as young as 21 with no underage fee. You will have unlimited miles, a competitive rental rate, 24-hour roadside assistance, and a free I-Pass that's included with every rental at our Toyota dealership.
* Try Before You Buy: You can test drive a new Toyota car before you choose to lease or purchase it, so you're guaranteed to love the Toyota you own!
* When you rent and drive a new Toyota, you have the chance to experience the latest technology, including Toyota Hybrid Synergy Drive!
Free I-Pass included with every rental! State Driving Limitations may apply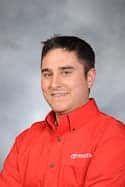 Andy Pellegrini
Toyota Rent-A-Car Manager
847-843-4430 direct dial

---
Is your vehicle headed to another bodyshop or service repair center?
Call or email to inquire about our special replacement rental rates!
Direct billing to most insurance companies.
Rent a Toyota model that fits your everyday needs.
---
Renting for Business?
Call or email to inquire about our special business discounted rental rates!
For information regarding vehicle availability, other model selection, state driving limitations, or
rental qualifications and requirements, please call or email our Toyota dealer serving Palatine, Des Plaines, Hoffman Estates, and all surrounding areas anytime!
---
888-706-1262
<