Winterize Your Toyota Vehicle at Schaumburg Toyota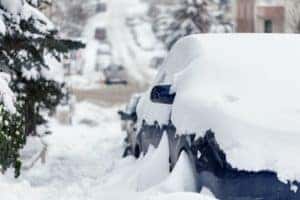 You can trust our Schaumburg, IL, Toyota dealership to meet all of your Toyota brand needs, from providing a thorough selection of new Toyota cars, financing advice, or keeping your vehicle in tip-top shape throughout the year — especially during the harsh winter months. Before temperatures drop, visit us at our Toyota dealership serving Des Plaines, IL, to prepare your vehicle for the winter season.
Winterizing Your Toyota Vehicle
Illinois residents from the Schaumburg area are not strangers to all the challenges and delights of colder winter months, which can be severe on your car. To make sure your vehicle can withstand the conditions and function properly, we encourage you to take the time to winterize your Toyota vehicle.
You can do a few things on your own, such as ensuring that you consistently maintain a half-full gas tank, monitoring and replenishing your windshield wiper fluid levels, traveling with a supply of emergency supplies on hand, and also keeping an eye on your tires to ensure they're properly inflated.
In the event that you need a tire replacement or would like to explore winter tires, we can help with these and other preparation measures at Schaumburg Toyota.
How We Can Help You Winterize
At our Toyota service center near Arlington Heights, IL, we can promise you a detailed and careful check to ready your vehicle for the winter. You can count on our skilled and highly-trained service experts to do their utmost to ensure that everything is in winter-ready shape.
In addition to monitoring and adjusting your vehicle's fluid levels, our service team will also inspect your tires to ensure they have the proper inflation. They can also advise on and install the best snow tires or all-season tire options for your vehicle, as well as heavier-duty wiper blades for winter snowfall. Other important checks and services our technicians will be happy to provide include a review of your battery condition and health (and replacement if necessary) and ensuring that your vehicle's heating and defrost system is in proper order.
No matter the season or time of year, our Illinois Toyota dealership serving the Palatine area is your go-to destination for all of your Toyota car service needs. In preparation for winter, which can be one of the harshest seasons on your vehicle, we encourage you to call or schedule your pre-winter service appointment. We can't wait to help ready you and your vehicle for the winter months and assist in keeping your Toyota vehicle in great shape throughout the season.