Winterizing Your Vehicle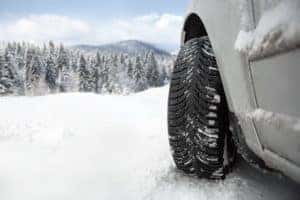 When you come on down to Schaumburg Toyota, you will be greeted by a wide inventory of new and pre-owned cars, trucks, and SUVs. Our experienced financing team will help get you the loans and lease options that fit your budget, and our knowledgeable service team will ensure you stay safe no matter what the road ahead may bring.
Emergency Kit Basics
One of the most important ways you can protect yourself and your new Toyota car is to properly prepare your vehicle for the winter months. Start by adding an emergency kit to your trunk or back seat. Be sure to add a first aid kit, food and water, blankets, shovels, and flashlights. You may purchase a pre-made kit or make one of your own.
Inspections at Our Service Department
After that, you'll want to bring your Toyota vehicle down to Schaumburg Toyota, the Toyota dealer you can always rely on. We'll provide a point-by-point inspection to ensure your car is safe for driving in winter. We'll check your tires for any sighs leakage and may suggest switching to winter tires if the conditions call for it. Then, we'll inspect your battery, as batteries can lose up to 50% of their capacity in weather under freezing. Hoses and belts are particularly prone to damage in the cold weather, so our team will check for signs of leakage or cracks and work with you to repair the things that need it. We'll also check your oil, as well as your coolant, brake fluid, and power steering fluid, so you know your Toyota Highlander, Toyota Prius or Toyota Avalon is as safe as possible every season of the year.
Visit Schaumburg Toyota Today
Staying safe on the road in winter is easiest with good preparation and organization. Let Schaumburg Toyota be the team you rely on to get the job done right. If you're on the search for the perfect new vehicle, we've got you covered there too! Come on down to 875 Golf Road in Schaumburg to check out vehicles like the new Toyota Sienna and Toyota Corolla. We look forward to putting you behind the wheel of your next car and to helping you keep it in the family for years. Test-drive your dream Toyota vehicle today!